Hvad er go, og hvad er no-go efter en spiseforstyrrelse? Hvem sætter reglerne, hvad er okay – hvad må JEG egentlig??
Må jeg gå på en slankekur for at kunne passe en kjole til et bryllup? Må jeg prøve 5:2 kuren, hvis min veninde er på den, og hun fortæller, at den giver hende energi? Må jeg kigge mig i spejlet, og synes, at jeg har taget på, og tænke "ØV!"? Må jeg sige nej til kage, fordi jeg ikke lige har lyst, og jeg i øvrigt skal i bikini i næste uge? Må jeg skippe frokosten, fordi jeg er kommet til at spise en pose chips i stedet? Må jeg spise så meget guf en lørdag aften, at jeg bliver fysisk dårlig, og jeg så dagen efter melder mig på et BodyFit hold i Fitnessworld?
Det lyder helt som Omsen og Momsens Fy-Fy-Skamme sang. Men dét at være tidligere spiseforstyrret har for mig engang imellem sat mig i nogle dilemmaer – for hvad må JEG egentlig? Jeg er jo ikke min veninde, min søster, min kollega eller min nabo, der lige vil prøve en hip kur, eller vil tabe sig 2kg inden et bryllup. Jeg er Katja, hende den tidligere spiseforstyrrede, og specielt i starten var det som at gå på en tynd, tynd line 10.000 meter oppe i luften, hvor jeg konstant var nervøs for at træde ved siden af.
Derfor vil jeg over flere indlæg sætte fokus (og måske debat?) om de ting, man (ikke) må som tidligere spiseforstyrret.
I søndags løb jeg mit 3. officielle halvmarathon. Jeg har en del flere i benene, samt de fulde 42,195 Km fra mit første marathonløb i maj 2015.
Men må jeg egentlig det? Må jeg som tidligere spiseforstyrret gerne løbe så lange distancer, eller er det tangerende til kompensation af indtag af føde?
Jeg har flere gange fået (helt sikkert kærlige og velmenende råd) om, at jeg skulle passe på med mit løb. At det ikke tog overhånd, at jeg ikke kørte mig selv ned, at jeg ikke pressede mig selv for meget. At jeg ikke blev syg igen. Men det har faktisk gjort mig ked af det – for ville jeg have fået samme kommentarer med på vejen, hvis jeg ikke havde haft en spiseforstyrrelse før? Jeg kan selvfølgelig ikke vide det, og jeg har gennem tiden affundet mig med, at sådan er tingene altså. Og så er det jo egentlig også et udtryk for kærlighed – mine kære og nære vil have, at jeg har det godt, og de er bekymrede for, at jeg bliver syg igen.
Og jeg kender det jo godt selv. Min lillesøster har epilepsi, og så snart jeg spotter den mindste rysten på hendes ben, eller et gab lidt for tidligt på aftenen, så spørger jeg jo også hende, om hun er okay. De gange vi har været i byen sammen, og der har været blinklys/høj musik, har jeg nærmest som en papegøje spurgt hende, om hun var okay. Super irriterende storesøster egentlig – men det bunder jo i kærlighed.
Tilbage til mit løb; Jeg begyndte faktisk først at løbe et par år efter min spiseforstyrrelse. 2. januar 2013 sad jeg hjemme i min lejlighed, i sofaen med en skål is, og så tv. Jeg kunne med lidt god vilje måske løbe 300 meter, og det var så det. Og så besluttede jeg mig for, at jeg ville løbe eremitageløbet til efteråret. Crazy! Det var ikke et nytårsforsæt, fordi jeg ville tabe mig, blive sundere eller andet. Min Far er løber, og jeg ville egentlig bare gerne lave noget sammen med ham, nu jeg var flyttet hjemmefra, og så var det en oplagt mulighed. 
Da jeg 10 måneder efter sprang ham i armene efter at have krydset målstregen i Dyrehaven, kom jeg til at sige "Næste gang tager vi et halvmarathon!" – og så var der ingen vej udenom. Efter halvmarathonet fik jeg sagt, at jeg ville løbe den fulde distance. Skete så året efter.
Mit løb har aldrig handlet om at jeg ville tabe mig. På ingen måde. Hvis det var pointen med det, så ville jeg være hurtigere, løbe flere ture, disponere det hele på en anden måde. Jeg slapper af, når jeg løber. Jeg hører både Mozart og Suspekt, når jeg løber. Jeg gennemgår scenarier i hoved, drømmer mig væk, tager store beslutninger, og får spontane idéer, når jeg løber.
Engang blev jeg brændt af på en date, og åbenbart rammer influenza så pludseligt noglegange, at man først kan give besked 2 timer før man skal mødes. Jeg kunne ikke overskue, at min eftermiddag i stedet så skulle ende på sofaen med dårlige serier, så jeg snørrede mine Asics-sko, satte musik i ørerne, og sørgede for at have en 20'er i min sportsBH, så jeg kunne købe en kakao på halvvejen – og så løb jeg et halvmarathon. Al min irritation og vrede over endnu engang at være blevet brændt af, fik jeg løbet væk, til tonerne af Ed Sheeran og frisk oktobervind i hoved.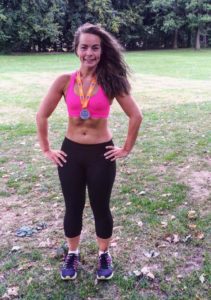 Da jeg i søndags skulle løbe, havde jeg løbet 3 gange siden februar. Jeg har ikke haft energien eller overskudet til det. Hele min sommer har faktisk været lettere presset, så selvom det nok havde været godt for mig at komme ud på en lille løbetur, så er det bare ikke sket. Jeg nåede også lige at panikke lidt inden – jeg havde ikke trænet op, og nu skulle jeg løbe 21K. Så jeg kastede mig ud i en selvopfunden kur, der bestod af nutellamadder, slik og kakao dagene inden. Og så selvfølgelig min obligatoriske kødsovs, som jeg altid laver inden et løb, fyldt med bønner, spinat og protein. Noget af en diæt, hva? Men det lykkedes – og jeg fik endnu et løb til samlingen, og resten af dagen brugte jeg på sofaen med chokolade, chips og kødsovsrester.
Med min laissez faire tilgang til løb, kan jeg med ro i mig selv sige, at jeg ikke bliver syg af at løbe. Så jeg må godt! Selvfølgelig skal jeg tage min familie og venners råd til mig, men så længe jeg kan mærke, at det bunder i kærlighed fra deres side, og ikke et begyndende tilbagefald fra mig side, så skal jeg tage det for hvad det er – kærlighed.
Grænsen for mig går, hvor jeg tvinger mig selv ud at løbe. Hvis jeg en dag begynder at løbe, fordi jeg SKAL og ikke fordi jeg har LYST – så smider jeg mig selv ind på sofaen med en kop kakao, for sådan kører tingene herhjemme.
Kærlig hilsen,
Katja