I dag har min Far fødselsdag, og i den anledning har jeg valgt at skrive et indlæg om pårørende, tilegnet og skrevet om ham.
Min Far er en af de klogeste mænd, jeg kender. Han ved alt om alt – også om underlige ting, der bestemt ikke er paratviden. Han er typen, mine veninder ringede til 10 minutter før et oplæg på gymnasiet, fordi han lige kunne komme med nogle guldkorn.
Han er uddannet bygningsingeniør i 1987, og når de andre børn på vejen sagde "Min far har faktisk bygget denne her bygning!", så vidste jeg jo godt, at det ikke var rigtigt. Men jeg vidste også, at min Far havde været med til at bygge husene i Thorskvartetet. Så sej var han nemlig!
Min Far kan fikse alt.
Min Far er en ægte Ninja. Han er faktisk Ishøjs ubesejrede stærkeste mand – og så kan han også spille blokfløjte.
Han er en mand, der favner bredt, kan mange ting, og ved mange ting.
Derfor var det også en helt anden mand, jeg så, da jeg var syg.
Da han den tidlige morgen blev vækket af min mor, og bedt om at stå op, fordi jeg havde fortalt at jeg kastede op, hver gang jeg havde spist, der havde han ingen løsning. Jeg tror, han var magtesløs.
Han tændte computeren i stuen, og sagde til min Mor, at de skulle Google Anorexi. Min Far har helt sikkert før hørt ordet "spiseforstyrrelse", men det har været i en perifær forstand. Pludselig stod han og skulle forholde sig til det som en konkret sygdom, hans datter havde.
Mine forældre fik ingen hjælp til hvordan de skulle håndtere sygdommen. Jeg var på Psykiatrisk Skadestue den morgen, men mine forældre fik ingen råd eller vejledning. De fik bare mig hjem igen, og så kunne de selv finde ud af, hvordan de skulle håndtere det.
Der må have været mange spørgsmål, som de har stået helt alene med; skulle de tale med mig om det? Måtte man egentlig overhoved tale om det? Hvorfor gjorde jeg det? Hvad skulle de gøre for at hjælpe?
Kunne de overhoved hjælpe mig?
Jeg var faktisk gal i starten. Helt uberettiget. Jeg var gal over, at de ikke talte med mig om det. Hvorfor spurgte de ikke ind til noget? Var de ligeglade?
Et par måneder efter at de havde fundet ud af, at jeg var syg, skulle jeg låne noget af min Mor. Det lå inde i deres kommodeskuffe, og jeg fik at vide, at jeg bare kunne tage det.
Jeg åbnede skuffen, og det lå den. Hvid paperback med blå skrift. "Spiseforstyrrelser".
Jeg fik et sug i maven. Selvfølgelig var de ikke ligeglade, de vidste bare ikke, hvad de skulle gøre. Og for at finde ud af det, havde de købt bogen, læst i den, og gemt den væk i skuffen, nok for at jeg ikke skulle finde den og blive ked af det.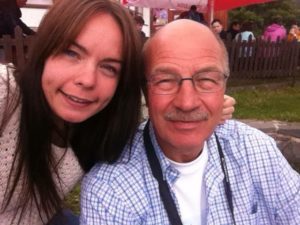 I mange måneder gik vi i stilhed omkring sygdommen. Min Far, der kunne løse alt, han havde ikke en løsning på det her. Han kunne ikke sætte et plaster på min sjæl, puste på det, og så var alt godt igen, som han gjorde da jeg var lille og var faldet på cykel og havde slået mit knæ. Sammen med min Mor, var de to alene om et sygt barn, og de vidste ikke, hvad de skulle gøre.
Et par måneder senere så jeg for første gang i mange år min Far græde. Vi var til familiedag på Stolpegården, og vi skulle kort præsentere os selv. Han nåede knapt at sige sit navn, og hvem hans datter var, før han græd. Ikke blot en lille tåre, der løb fra hans øje. Han var ulykkelig. "Kunne jeg have opdaget det før???" sagde han.
Der sad ham. Ishøjs stærkeste mand, den klogeste jeg kender. Problemløseren, manden der ved alt. Men her vidste han ikke, hvad han skulle gøre.
For selvom man er en stærk, klog Ninja, det ved alt om alt – så har man ingen chancen for at vide, hvad man skal gøre i situationen, når man ikke har fået hjælp til at finde ud af det.
Jeg blev rask – og mine forældre blev meget klogere på spiseforstyrrelser.
De skulle have haft mere støtte. De skulle have haft muligheden for at tale med andre i samme situation. De skulle have haft redskaberne til at tale med mig – og vide, at det var okay at tale om det.
Det er en af mine grunde til at have været med til at starte LFS (Landsforeningen For Spiseforstyrrede & pårørende). For andre forældre og pårørendes skyld. For at være med til at støtte op og give dem viden og pusterum.
Fordi de er voldsomt berørte, men ender med at stå i skyggen og blive lidt glemt. Dét skal laves om.
Min Far er stadig en Ninja. Han er stadig en af de klogeste jeg kender. Han er stadig Ishøjs stærkeste mand – og han sad på forreste række til LFS' første foredrag i København.
Han er med til at bryde tabuet nu – han har prøvet at stå i situationen, hvor man ikke ved, hvad man skal gøre, eller hvor man skal søge hjælp. Og nu er han med til at gøre noget ved det. Han deler foldere ud, og han taler om det at have en spiseforstyrrelse.
Han er tabubryder for de pårørende, han er min Far, og jeg er pisse stolt!!